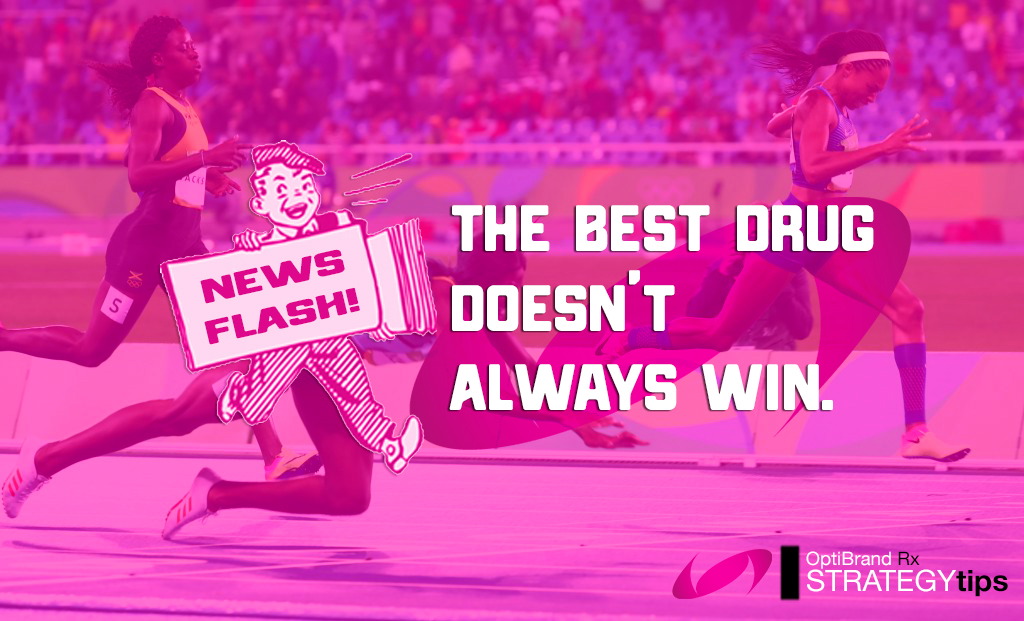 "There is no 11th commandment that says the best product wins"

– Nir Eyal
---
At a recent NJBio event, I had the opportunity to listen to a terrific panel discussion during which an industry CEO made the comment that "efficacy trumps all" when speaking to what makes healthcare products successful. This elicited a spirited debate among the panelists with some agreeing and others taking the position that both efficacy and safety are "table stakes" and that other factors play an equally important role.
It is perhaps not surprising that a brilliant scientist turned successful pharmaceutical executive should be so focused on chemistry, mechanism of action and efficacy as the primary points of differentiation.
However, it is only in rare cases that these factors alone correlate to true market success.
Thankfully, in today's global regulatory environment, all marketed therapies must be deemed "safe and effective." And it stands to reason that if all drugs are deemed "effective" then all run the risk of being perceived equal by prescribers.
With few exceptions, the reality for most products is there is minimal meaningful difference in efficacy and safety among competitors. Further, the rarity of head-to-head trials means that positioning on efficacy is an exercise in splitting hairs.
If "efficacy trumps all" why do so many products struggle to meet their commercial goals? Why do so many prescribers continue to fall back on treatment algorithms they have used for decades even with the advent of 'highly effective new products'? And why do so many patients fail to receive the right treatment at the right time?
More often than not, the answer lies in brand positioning. To be more specific, it is the clarity and emotional connectedness within the positioning – or lack thereof – that is the difference between a product that excels and one that disappoints.
Today, the stakes are higher than ever both in terms of revenue objectives and patient outcomes. Competition in the healthcare industry is fierce. Consolidation creates opportunity as well as confusion. And R&D pipelines are only beginning to stem the tide of patent expirations for many major manufacturers.
Pharma companies simply cannot afford to leave a single prescription on the table. So what course do too many companies pursue? They place too much emphasis on what they know about their product ("ours is the most effective treatment for…" or "ours is the first product to treat…") and over-index on the science and perceived benefits.
Therein lies the problem. If they're fortunate, none of the internal development and marketing teams are the target patients and only a very few will be the target prescriber. This is equally true for agency partners. So then, it is not surprising that so much creative energy for so many great products has been focused on efficacy messages and not enough on the emotional triggers that drive lasting behavioral change.
Behavioral change is hard work. This is especially true for health care practitioners who have spent many years in practice and have developed close, long term relationships with their patients. Most practitioners routinely stare down a multitude of both established and innovative therapies for the patients they treat. There are a host of options and a cacophony of marketing messages vying for their attention. Regardless, treatment preferences among prescribers are often set in a safe, "if it ain't broke don't fix it" mode.
Without a clear and motivating reason to change, prescribers tend to stay with the familiar and consider change when that proves no longer effective.
Imagine an oncologist treating patients with multiple myeloma. He's been treating his patients the same way for years with reasonable success. Only now he is bombarded daily with messages about why one drug has "greater efficacy in patients with…when used concomitantly with …" or another has a "unique mechanism of action never before available in multiple myeloma."
If he's like most, his reaction will be "OK, but what else is different?" The most likely result? Without a more compelling reason to believe, he falls back on the treatment he's used for decades and when all else fails he will use the new product, which is a place no product wants to be positioned.
This is not an isolated scenario.
Responsible brand marketers mustdiscipline themselves to look beyond the obvious to differentiate sustainably. Being the 'first oral dosage form' or 'the first non-steroidal' is simply not adequate to sustain a healthcare brand in today's highly competitive marketplace. In most cases these are important "proof points", which should underpin and support positioning that connects on a deeper, more emotional level rather than define it.
To finish first, it's essential to dig deep and push beyond traditional comfort zones to identify the tensions and triggers that lead to real, lasting behavior change. This is not trickery. It is identifying what will break through the clutter and define your brand in a way that is instantly understood, more meaningful, and deeply emotionally connected.
Behavioral change takes discipline and a rigorous approach that balances insight, creativity and a solid analytical model. Further, it takes an open-minded agency partner willing to work collaboratively to translate key tensions into brand messaging and creative that connects emotionally and communicates the positioning effectively.
Though a new drug may in fact deliver a revolutionary MOA or offer unique efficacy, these facts alone may not be sufficient to change prescribing behavior. However, when those attributes are leveraged to support an emotionally connected strategic brand positioning, that drug will have its best chance to be the "safe and effective" product that finishes first.
---
About OptiBrand Rx
Established in 2006, OptiBrand Rx was built on the singular promise of providing insightful, unbiased strategic vision, brand positioning and naming to maximize commercial opportunity for healthcare brands. We believe that brand success equates to better access and improved patient outcomes.
OptiBrand Rx delivers decades of global strategic marketing experience, along with a wide range of therapeutic category expertise, and direct involvement in dozens of major product launches.
Our work on hundreds of brand positioning assignments has given us deep insight into the positive impact great positioning can have on healthcare brands.
We would love to share this experience with you and your team. Let's Chat!