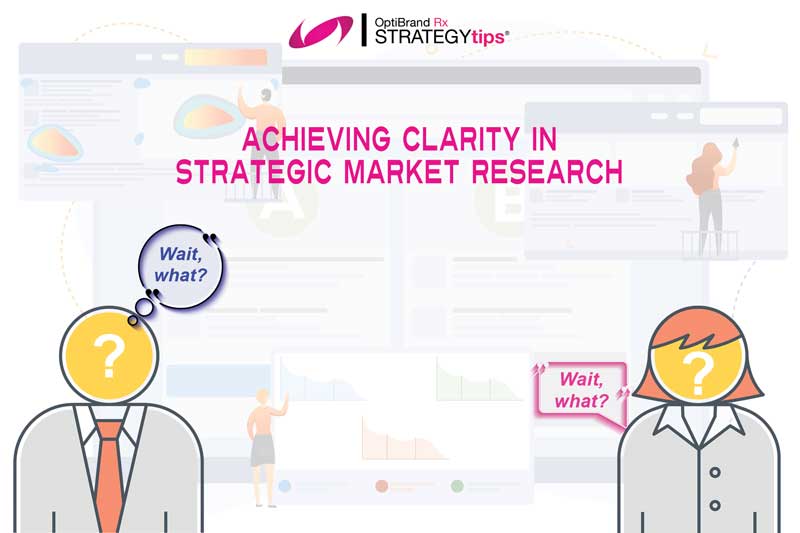 Ever sat in a market research read-out and thought to yourself "what is all this telling me?"; "how does this inform my brand's strategy?"; or "how many slides are in this deck?
Well, it's a surprisingly common experience for marketers. Our personal experience having sat through hundreds of meetings like this has given us keen insight into how "traditional" research results are delivered and how brand teams consume and interpret them.
This is not an indictment of market research or market research firms. Rather, it is an observation that there are a number of under-appreciated dynamics at play in a brand strategy-focused market research initiative that are especially relevant in healthcare.
Too often brand teams select a research partner like they are checking a box. Establish a need for research, check the preferred vendor list, flip the switch. The unfortunate result can often be collection of a wealth of data, but little real, actionable insights which provide clear vision for the brand. The brand team is left to hunt for those insights within 80 pages of bar charts and scatterplots.
To be fair, this is what traditional market researchers do. Construct a screener, develop a discussion guide, collect data and report back to the client. This has been standard operating procedure for both qualitative and quantitative research for many firms for decades.
But does it have to be? Is it somehow anti-establishment for a research partner to go a little deeper? To dig into or even ask why they are being hired and what they are meant to deliver beyond the data points? To objectively assess if their proposed research model must be adjusted to fit the needs of the engagement and deliver data points which can be used to direct strategy moving forward?
We don't think so.
From our point of view, acquiring a deep understanding of work done to date, client needs/requirements and their vision for how the results will be used to drive strategy should be table stakes for all firms. Otherwise, how can one be a true partner and deliver actionable insights that inform and direct strategic thinking?
100+ page positioning research decks are often the result of a failure to answer three key questions at the outset: How will the client use the research? What will dictate a successful outcome? What is/is not a significant positioning insight for the brand?
This might seem a little controversial, but brand teams are sometimes to blame as their 'ask' is not always as clear as it should be, or they failed to advocate for themselves throughout the research by placing the bulk of responsibility on the research partner.
Well-conceived brand strategy requires equally well-conceived market research to build confidence and drive clear direction. Clear direction at the outset not only empowers research partners to conduct better research, but also to craft more concise and "digestible" read-outs that tell a story rather than present data points. Communicating the data story visually makes complex data more accessible, understandable and usable to enable brand teams to make better, quicker decisions.
A few things to consider when preparing your next brand research project:
Look beyond "preferred-vendor" status – dig deeper when selecting a partner.
Don't allow yourself to pigeon-hole partners. Don't select a research partner because "that's what they do."
Be sure to match the model to the needs of the engagement, don't assume it will fit.
Fully ground research partners in all work done to date.
Be crystal clear about what must be learned and how it will be used.
Advocate for your brand before, during and after research.
In reviewing insights, always ask "why?" and "what are the implications for the brand?"
Establish an expectation of what will constitute a successful assignment.
Market research is a mission critical part of developing every successful healthcare brand. With so many balls in the air, market research results should clarify, not mystify brand teams. Fostering a close and integrated relationship across all partners – ad/creative, strategy, research, etc. – and crafting clear expectations will give any brand its best chance for success.
---
About OptiBrand Rx
Established in 2006, OptiBrand Rx was built on the singular promise of providing insightful, unbiased strategic vision, brand positioning and naming to maximize commercial opportunity for healthcare brands. We believe that brand success equates to better access and improved patient outcomes.&
OptiBrand Rx delivers decades of global strategic marketing experience, along with a wide range of therapeutic category expertise, and direct involvement in dozens of major product launches.=
Our work on hundreds of brand positioning assignments has given us deep insight into the positive impact great positioning can have on healthcare brands.
We would love to share this experience with you and your team. Let's Chat!